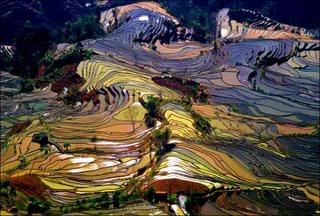 This is not Banawe

Dean Bocobo recently asked whether anyone has carbon-dated the Banawe Rice Terraces yet. That question reminds me again of the Igorot-Chinese connection, which we hope becomes clearer and stronger after all the required DNA sequencing and carbon dating have been made. Does anyone have any updates on this? Inez? Tito? I have a little problem, though, with the Ifugao subset of Igorot tribes. If you look at the Ifugaos, a lot of them don't have chinky eyes at all. An anthropologist I've read in a textbook claims Ifugaos are Indonesian in origin. But then again, there are the other evidences to the contrary.

Did you know that there are rice terraces in the heart of China similar to those in Banawe? Surely the technology evolved from a single cultural source?

And if you notice the names of Cordillerans, there's a preponderance of peculiar (to the average Filipino), Chinese-sounding wording and phrasing; for example, bomod-ok, kankana-ey, etc.

Let's go back to the general question: Are Igorots, in general, Chinese? With the exception of the Ifugaos, there's the chinky eyes and the smooth, yellowish skin as physical evidence. If you think about it, the Eskimos look the same; are Eskimos Chinese in origin, too? The people of Batanes look Chinese, too, despite their dark color and relative height. So do the Incas of Peru, as well as the 'American Indians.' Do these groups have Chinese origin, too?

It would be good if someone could enlighten us on this.
**
I remember a brief exchange in this blog in the past where I assumed the Chinese to be the precursor of other Chinese-like cultures, such as the Japanese, Vietnamese, Mongolian, Burmese and Korean, even Thai. Bayi, a Malaysian and coming from a multiracial society, cautioned me not to say that out loud because a lot of people wouldn't take to that thought very kindly. I remember sighing and saying science knows no politics, or science is blind to historical biases, or something to that effect. I hope all that carbon dating and gene sequencing will lay all doubts to rest.
Taiwanese, long-lost cousins of Flips?
Now for a strange twist, take a look at this emailed pic.